Welcome to KensWineGuide.com, home of the Internet's most comprehensive wine buying guide. Reviews by Ken and the KWG tasting panel will help you find that perfect bottle of wine for any occasion.
Ken's Wine Guide consolidates professional ratings from eight of the leading wine rating publications and highlights notable wines, restaurants, wineries, places to stay and other wine fun for novices and enthusiasts alike. Enjoy!
Dr Konstantin Frank 2013 "Late Harvest Riesling" Dessert & Ice Wine, NY

Ken's Wine Rating: Very Good+ (90)
Price: $50
KWG Score: 92
No. Professional Ratings: 2
# of Cases: 150
This pale straw colored dessert wine opens with an inviting pineapple and apricot bouquet. On the palate, this wine is medium bodied, slightly acidic and pleasantly sweet. The flavor profile is a tasty gentle apricot with hints of minerality, honey, raisin and faint orange. The finish remains sweet and its flavors linger and last for a while. The panel suggested pairing this tasty wine with New York cheesecake with fresh strawberries. Enjoy - KWGTP

by KensWineGuide.com

Hope Estate "Basalt Block" 2012 Syrah & Shiraz (Other than French)
Lucashof Estate "Forster Bischofsgarten Kabinett" 2013 Riesling
Artadi "Vineyard Selection" 2012 Spanish Red
Paul Anheuser "Schlossbockelheimer Konigsfels Kabinett" 2013 Riesling
D'Arenberg "The Noble Wrinkled Riesling" 2011 Dessert & Ice Wine
Dr Konstantin Frank "Reserve" 2013 Riesling
Evening Land "Seven Springs Vineyard La Source" 2012 Pinot Noir
St Urbans Hof "Bockstein Ockfen Kabinett" 2013 Riesling
Fire Road "Marlborough" 2013 Pinot Noir
Dr H Thanisch "Bernkasteler Badstude Kabinett" 2013 Riesling


What's New on KensWineGuide.com
Latest Post on the KensWineGuide.com Blog!

AHH! The Great Outdoors! Summer is a time for adventure and exploration, and Touring and Tasting challenges you to get out of your perfectly chilled office and into the great outdoors! They have come up with some wine country spots that will leave you feeling relaxed and recharged this summer! Check out our lasted blog post with their great ideas!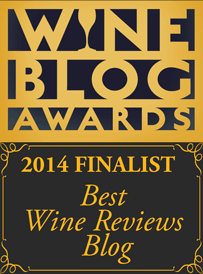 KensWineGuide.com is once again a finalist for Best Wine Reviews on a Wine Blog. Thanks to all the Readers who voted for us!
Follow Ken on Facebook!
If you're on Facebook, stay current by becoming a KensWineGuide.com fan! Click on the icon below to become a fan!

KensWineGuide.com
Follow Ken on Twitter!
Please click on the icon below to follow KensWineGuide on Twitter.