Welcome to KensWineGuide.com, home of the Internet's most comprehensive wine buying guide. Reviews by Ken and the KWG tasting panel will help you find that perfect bottle of wine for any occasion.
Ken's Wine Guide consolidates professional ratings from eight of the leading wine rating publications and highlights notable wines, restaurants, wineries, places to stay and other wine fun for novices and enthusiasts alike. Enjoy!
Huguet 2008 "Brut Nature Grand Reserve Cava" Champagne & Sparkling Wine, Spain

Ken's Wine Rating: Very Good+ (90)
Price: $29
KWG Score: 90.5
No. Professional Ratings: 2
This pale straw colored Cava from Spain opens with some tiny bubbles and a fragrant bread dough, green apple, and wet stone bouquet. On the palate, wine is medium bodied, creamy, and approachable. The flavor profile is a tasty mineral infused green apple with hints of lime, strawberry, saline, and ginger. The finish is dry and refreshing. The panel suggested pairing this very nice sparkler with spring rolls or sushi. Enjoy - KWGTP

by KensWineGuide.com

Shafer Vineyards "One Point Five" 2012 Cabernet Sauvignon
Chateau Montelena "Napa Valley" 2013 Chardonnay
Rodney Strong "Alexander's Crown" 2012 Cabernet Sauvignon
Spring Valley Vineyard "Uriah" 2012 US Red Blend
Murphy Goode "Liars Dice" 2011 Zinfandel
Kaltern "Pfarrhof Kalterersee Classico Superiore" 2014 Italy (Other Regional Reds)
Kanonkop "Kadette" 2013 South African (Red Blend)
E Guigal "Chateauneuf du Pape" 2010 French - Rhone (Red Blend)
Chene Bleu 2014 Rose
Quinta de la Rosa "Reserva Red" 2012 Portugal Red


What's New on KensWineGuide.com
Latest Post on the KensWineGuide.com Blog!

Harvest Happiness this Fall! Harvest is the best time to visit wine country and you don't want to miss out on experiencing this special time of year. Amazing wine, amazing vibes, and amazing weather… have we convinced you yet? Our friends at Touring and Tasting can't think of a better way to spend your fall other than visiting one of their recommended wineries! They've handpicked 9 unique wineries that they think you will enjoy. Check out our lasted blog post for their recommended destinations!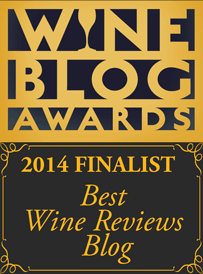 KensWineGuide.com is once again a finalist for Best Wine Reviews on a Wine Blog. Thanks to all the Readers who voted for us!
Follow Ken on Facebook!
If you're on Facebook, stay current by becoming a KensWineGuide.com fan! Click on the icon below to become a fan!

KensWineGuide.com
Follow Ken on Twitter!
Please click on the icon below to follow KensWineGuide on Twitter.