With the holidays just around the corner, we thought we'd offer up a few ideas for wine country getaways that are sure to please even the most discriminating travelers and palates.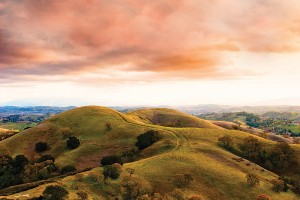 Livermore Valley
Set in the hillsides of picturesque Livermore Valley and just a quick trip from downtown San Francisco, the Purple Orchid Resort and Spa offers ten beautifully appointed guest suites, each with a fireplace and Jacuzzi tub. The stunning 9,000-square-foot log cabin-style resort, nestled amongst 24 acres of Manzanillo olives, exudes a sense of Old-World charm. Whether gathering poolside with friends, enjoying a treatment at the Purple Orchid's world-class spa, or simply cozying up to a fireplace with a glass of wine, guests get a new sense of rejuvenation. Each evening, guests are invited to the Gathering Hour, where olive oils and products made from the resort's own Livermore Valley olive orchard are served with local wines.
Tasting Tip: Be sure to visit Murrieta's Well and immerse yourself in Livermore Valley history at an Estate that was discovered in the 1880s and purchased by the incomparable local vintner Philip Wente in the 1930s. You're sure to savor not only the charming setting, but also some truly unique wines.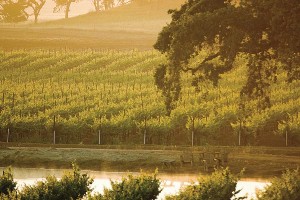 Lodi
Located less than an hour from Sacramento, you and your beau can escape to an environment that's as romantic as its name. The Wine & Roses Hotel, Restaurant, and Spa offers visitors to Lodi wine country a splendid retreat. From the moment they arrive, guests feel they're in good hands. The Wine & Roses staff has a knack for sensing just how much pampering one requires and proceeds accordingly. Garden Rooms boast rustic luxury, while Spa Rooms emanate a Zen-like feel, and the Signature Suites are abundant with custom details and amenities. No matter where they land, guests feel right at home at Wine & Roses. 
Tasting Tip: While in Lodi, be sure to visit Harney Lane Winery's warm and inviting tasting room, where you'll sample a portfolio of unique, memorable estate varietals including Old Vine Zinfandel, Tempranillo, Primitivo, Petite Sirah, and Albariño—along with classic Chardonnay.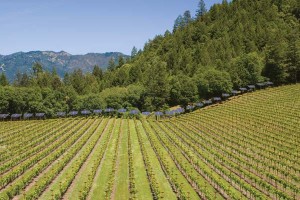 Rutherford
If you're looking for the quintessential wine tasting getaway with your favorite wine lover, look no further than Napa Valley's own history-steeped Rutherford appellation.  The Rancho Caymus Inn stands on land once awarded to pioneer George C. Yount as part of the Napa Valley's first land grant. Today, the 26-suite inn provides guests with an elegant retreat in the heart of the world-famous Rutherford Bench wine country. The beauty of the natural springs and hillside caves of the Flora Springs estate inspired the design of the Inn's unique tasting emporium. An appointment is not necessary for those wishing to drop in for a wine tasting flight or wine and food pairing. But for those able to plan ahead, tasting on the scenic Rooftop Lounge and Barrel Cave Room tastings are both possibilities, as are lunch or a delightful picnic served in a charming wine country table setting in the picturesque Vineyard Courtyard picnic area.
Tasting Tips: While in Rutherford, be sure to add the following wineries to your route:
Grgich Hills – co-founded by the winemaker famous for crafting the Chardonnay which upset the 1976 Paris Tasting. Mike has continued receiving international awards for his estate grown wines since that unforgettable day and has also been recognized as a leader in natural winegrowing and sustainability.
Peju – this beautiful oasis in Rutherford Estate also holds the distinction of being one of only 21 certified organic wineries in the Napa Valley. Wine tasting is taken to a new level at Peju, where its 50-foot French Provincial tower serves as the expansive tasting room and centerpiece of the property.
Artesa Vineyards + Winery – While it's a little outside of Rutherford, the excellent wine, epic family history, dramatic views and stunning architecture, and one-of-a-kind artistic installations by artist-in-residence Gordon Huether make Artesa Vineyards & Winery a destination-worthy experience. Fifth-generation Napa Valley winemaker Mark Beringer contributes his award-winning skills to Artesa's lineup of handcrafted wines which bring the true flavor of the Napa Valley alive on your palate.
Paso Robles
While the country roads of the Paso Robles AVA less than an hour from San Luis Obispo are winding, one never has trouble finding HammerSky Vineyards & Inn or trouble recommending it to friends after staying there. HammerSky is distinguished by a strikingly beautiful century-old farmhouse, which sits regally alongside the entrance driveway and where guests can enjoy an overnight getaway.   Beyond the gates beckon a panorama of rolling vineyards, a New England-style barn, and an ultra-modern tasting room where intriguing Paso Robles wine awaits.  Winemaker Rich Hartenberger's blending talent is evident in the winery's Open Invitation, a Meritage blend of the best of the harvest; and The Party of Four, a fun, complex mélange of four varietals. It's no wonder the HammerSky wines have an enthusiastic following and sell out every year.
Tasting Tip: Should you choose to leave your HammerSky haven and venture further into Paso Robles wine country, make a note to stop at one of Paso's true jewels: Villa San-Juliette. This slice of heaven is the brainchild of Ken Warwick and Nigel Lythgoe, childhood friends and producers of some of television's hottest programs including American Idol and So You Think You Can Dance.  More than 100 winemakers were considered to craft VSJ's wines and Ken and Nigel staged a blind tasting to select the winner. Their top two favorite wines were both crafted by one very talented winemaker, Matt Ortman.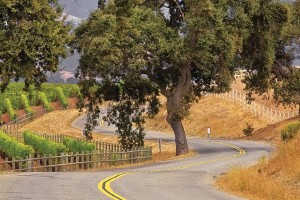 Santa Ynez Valley
A treasure in the heart of Santa Barbara wine country, the sumptuous Santa Ynez Inn welcomes guests with elegance and grace. Its authentic Victorian-era architecture and antique furnishings are so genuine that first-timers are surprised to learn that the Santa Ynez Inn was built from scratch just a decade ago. The inn has been honored with the AAA 4-Diamond award rating every year since opening and was named in Trip Advisor's Top 25 Small Hotels list in 2013. The Santa Ynez Inn offers an ideal oasis after a day of touring, tasting, and exploring the quaint towns of Santa Ynez, Solvang, and Los Olivos.
Tasting Tip:  Nearby, Zaca Mesa embraces the California Code of Sustainable Winegrowing to achieve balance in the vineyard and view the estate as one living, breathing system. Zaca Mesa wines have enjoyed the spotlight often and have been served both by President Clinton at a White House state dinner and at President Reagan's 80th birthday party. The 2006 Estate Syrah was listed #29 in Wine Spectator's Top 100 Wines of 2010.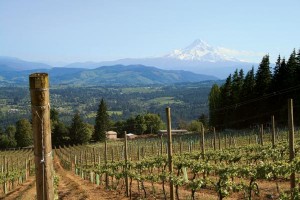 Willamette Valley
This "V" shaped Willamette Valley is home to Oregon's largest city, Portland, making it easily accessible to out-of-town wine lovers. Bordered by the Columbia River to the north, the Calapooya Mountains to the south, the Cascade Mountain foothills to the east, and to the west by Oregon's Coast Range, wine lovers are sure to swoon when they discover that around 200 wineries call it home. Quaint B&Bs and cozy, romantic hotels can be found throughout the Valley.
Tasting Tip: Tasting Tip: While in Willamette, be sure to visit Domaine Drouhin, which The Oregonian newspaper named Domaine Drouhin as Oregon's Best Winery for Tastings in 2012.  The winery itself is a four-story gravity flow design, built into the hillside. Fourth-generation Winemaker Veronique Drouhin-Boss gently oversees the entire Domaine winemaking process using traditional techniques, learned from a lifetime in wine.
The following article was provided by our contributing partner – Touring and Tasting Magazine.   Cheers – Ken