Across the United States—and around the world—there are scores of wine regions to discover with new places to tour, taste, and stay. In fact, there are so many exciting wine country destinations to visit; you may have trouble deciding where to begin! As the Premier Guide to Wine Country, Touring & Tasting has some great ideas to help get you on your way.
Check out these 10 Unique Wine Destination Discoveries (all featured in the Summer/Fall issue of Touring & Tasting magazine), find your favorite, and start planning your next wine touring trip or getaway, courtesy of Touring & Tasting!
Seven Wine Regions
Dundee Hills, Oregon
Less than 30 miles southwest of Portland, the Dundee Hills wine region is becoming a popular Oregon wine country destination. Known as an exceptional place to grow new world Pinot Noir, Dundee Hills offers non-stop stunning scenery and wineries owned and operated by interesting people dedicated to producing world-class wines. The restaurants have inspired chefs whose innovative dishes capitalize on local ingredients. Great wines, delicious food, quaint inns, frequent art and music festivals…there is always more to discover in the Dundee Hills.
Southern Oregon
Located about mid-way between Portland, Oregon and San Francisco, California, Southern Oregon is an amazing vacation destination and a gem of a wine region. This rustic wine country destination embraces the beautiful hamlets of Roseburg, Grants Pass, Medford, and Ashland and is home to natural wonders, historic sites, gourmet dining, and a diverse selection of wines. The range of microclimates allows Southern Oregon winemakers to craft an endless variety of wines. Southern Oregon is also an outdoor wonderland, with Crater Lake National Park, the Redwood forests, and the Rogue, Umpqua, and Klamath Rivers to explore. There's potential for adventure at every turn in the great outdoors and tasting rooms of Southern Oregon.
Contra Costa County, California
An hour east of downtown San Francisco, Contra Costa County is a sleeping giant wine country destination. Covering 800 square miles, the county has been producing wines for more than 120 years. As more people settled in this area, the county's number of vineyard acres and wineries decreased, but it never stopped producing exceptional wine grapes. Now, this sleeping giant of a wine region is awake once more, with 18 regional wineries, creating excellent Bay Area wines. Contra Costa County is so close to San Francisco, you can easily slip away to unrushed suburban towns like Brentwood, San Carlos, and Oakley to taste and buy wine and be back in time for dinner.
Yolo County, California
Tucked between San Francisco and Lake Tahoe, Yolo County is easy to love. Located less than half an hour from the steps of the capital of California, Sacramento, Yolo County is the primary resource for America's "Farm to Fork" capital. With a bounty of fresh fruits, vegetables, ranch-raised meats, and regional wines, Yolo County is committed to cultivating the environment and education. Embracing two wine regions, Yolo County is home to UC-Davis, a leader in agricultural advancement. This wine country destination offers lots of farms and farm communities eager to share their knowledge. Besides personable wine tasting rooms, Yolo County has many working farms that offer tours to give you a close-up view and teach you more about the food you eat. Satisfy your appetite for knowledge, great wines, and fabulous food with a trip to the wine regions of Yolo County.
Temecula Valley, California
Located about an hour from Los Angeles, San Diego, and Orange County, Temecula Valley wine country is set right in the heart of Southern California. With more than two dozen wineries in the Temecula Valley wine region, Temecula Valley is a notable California wine region. Nearby hotels, casinos, and state parks provide fun entertainment options for wine tourists. There's also plenty of food: from thoughtfully paired tastings to full gourmet restaurants. In fact, many Temecula Valley wineries have fabulous onsite restaurants. This Southern California wine country destination also boasts a warm climate. So if ideal like to soak up some sun while you taste elegant, balanced wines, visit the Temecula Valley wine region.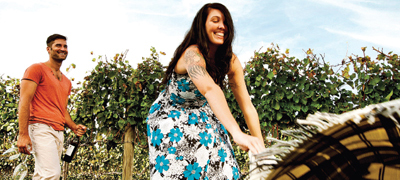 Loudon County, Virginia
Known as Washington DC's wine country, for its close proximity (25 miles), Virginia's Loudoun County provides wine tourists with a breath of fresh, wine country air. The rolling hills of Loudoun County have narrow country roads that wind along stacked stone fences, rolling pastures, and exquisite barns and stables. Historic homes, parks, and gardens dot the landscape—and of course, there are beautiful vineyards. Don't be surprised if you're greeted by the owner in Loudoun County wine tasting rooms. It's hard to believe this beautiful wine country destination is just 25 miles from Washington DC. With spectacular scenery, historical sites, and wonderful flavors the Loudoun County wine region has so much to take in.
Traverse City, Michigan
Surrounded by miles and miles of unspoiled shoreline, rolling dunes, wooded glens, and 50-plus sparkling inland lakes, Traverse City, Michigan has evolved into a hip wine region. This emerging wine country destination has two long peninsulas at the north end of Traverse City that are home to more than 30 wineries, boasting clear, fresh tasting, cool climate whites like Riesling, Gewürztraminer, and Pinot Grigio. Traverse City area winemakers also produce some remarkable red wines. Traverse City's Cherry Capital airport offers year-round daily direct service to Chicago and Detroit, making it easy for you to get to this charming wine country destination.
Two Wine Trails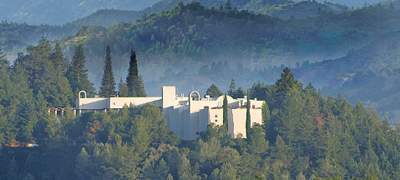 The Heritage Wine Trail; Napa Valley, California
For a perfect day in Napa Valley wine country, The Heritage Wine Trail is the perfect answer. It takes away all the guesswork, with pre-arranged stops at four iconic wineries and a picnic lunch. Each winery treats guests like a VIP and offers an utterly unique experience while they sample many fabulous wines. Stops include Acacia Vineyard, Oakville Grocery, Beaulieu Vineyard, Provenance Vineyards, and Sterling Vineyards, The Heritage Wine Trail pace of the day is up to you, so you're sure to enjoy a relaxing day of wine country touring. What's more, it's just $99 for the entire day! Our editor took the tour and gives it her hearty stamp of approval. So visit the Napa Valley wine region and taste along The Heritage Wine Trail.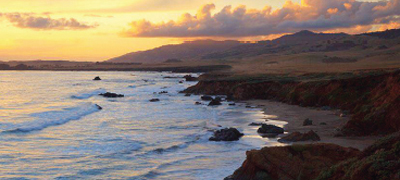 Wine Coast Country Discovery Route, San Luis Obispo County, California
This unrivaled 103-mile wine country route connects ten picturesque coastal destinations for the ultimate road trip through California's stunning San Luis Obispo County wine region. Travel the world and you won't find any place quite like this. The dramatic windswept cliffs, pristine coves, white sandy beaches, quaint towns, and rolling vineyards of San Luis Obispo County will give you reason after reason to explore. There are great wineries plus ten destinations to visit in one vacation! Visit: Ragged Point, San Simeon, Cambria, Cayucos, Los Osos/Baywood Park, Avila Beach, Oceano, Nipomo, Arroyo Grande, and Edna Valley. Take a two hour drive or take two weeks: just don't miss this remarkable opportunity.
One Wine Destination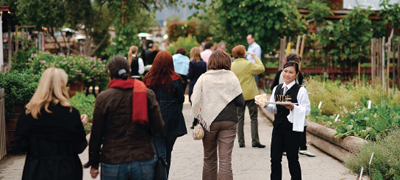 Fairplex, Pomona, California
Home to the L.A. County Fair in Southern California, Fairplex has evolved into a premier wine, food, and entertainment venue. The campus includes an 85,000-square-foot conference center; exhibition halls, two restaurants; a museum; historic trains, a racetrack, an organic farm; an RV Park, and the Sheraton Fairplex Hotel & Conference Center. More than 500 events take place at Fairplex each year, including the Los Angeles International Wine Competition, olive oil and beer competitions, and the L.A Wine, Spirits, Beer & Food Festival. With an organic farm on the premises, Fairplex is able to deliver farm fresh ingredients and host a series of Table-to-Farm Dinners. For wine and food lovers living in Southern California, or for visitors to the area, there is no better place for great, educational entertainment than Fairplex.
The following article was provided by our contributing partner – Touring and Tasting Magazine.   Cheers – Ken